Sadhana Singh is a name that is difficult to forget, especially after you meet her. She is a prominent Bollywood actress. Sadhanaji gained massive recognition by the character of 'Gunja' in the movie, 'Nadiya Ke Paar' opposite to Sachin. It gives me great pride to write about this veteran actress today.
Full Name: Sadhana Singh
Profession: Actress
Place of Birth: Varanasi
Place of Residence: Mumbai, Maharashtra
Prominent Works in Movies:
Nadiya Ke Paar
Sasural
Papi Sansar
Piya Milan
Durgaa Maa
Tulsi
Sur Sangam
Parivaar
Jugni
Mukkabaaz, and more…
Prominent Works in Television:
Pyar Zindagi hai
Prratima
Phulwa
Kabhi to Milenge
Kis Desh Mein Hai Meraa Dil
Ghar Jamai
Santoshi Maa, and more…
About Sadhana Singh:
Sadhana Singh is one of the simplest yet most appreciated actresses of her time. I am still in the mode of realizing that I actually met her. Her pure soul gracefully reflects her outer personality. She is a mother to two talented children.
"I was a tom boy."
– Sadhana Singh
Her son is an entrepreneur and daughter is an actress. Sadhanaji happily resides in Mumbai with her family and continues to entertain the audience with her brilliant acting skills. Her last work was noted in Mukkabaaz. Not many are aware but, Sadhanaji is also a beautiful singer.
My Meet with Bollywood Actress Sadhana Singh:
We met at her residence in Andheri and I must admit I was swayed by the interiors of her house. Everything is so beautifully arranged and selectively chosen. Her house has beautiful artifacts, a lush green lawn, and spacious living room.
One of the best qualities to experience was her love for her pet dog. Her pet dog is undergoing old age symptoms and has slightly lost his vision. Many people often discard their pets on the streets when they turn old or fall sick. Her true love and concern for her pet is a notable human quality in Sadhana Singh that touched my heart. She gave us a warm welcome. I can't thank her enough for the patience she delivered for my late arrival due to traffic in Andheri side, especially after the flyover collapse incident.
"Dealing with people is an art."
– Sadhana Singh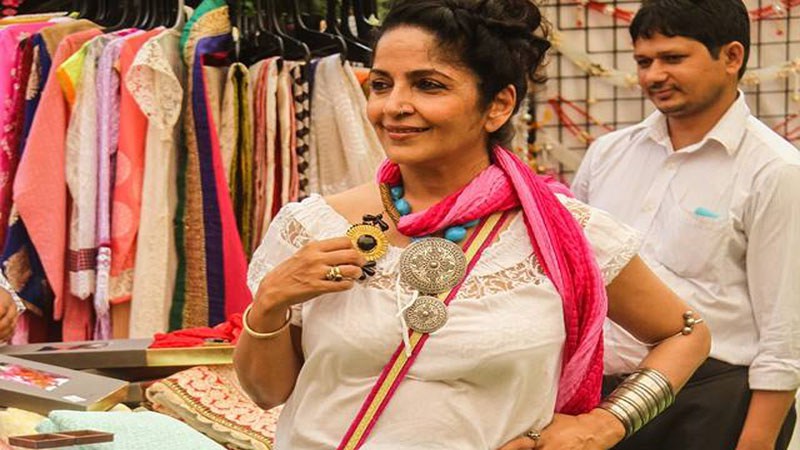 Soon enough after a short introduction we began conversing with each other. While talking to her, I realized she had no typical tantrums of an artist or an elite lady. She brings great class in her personality by her choice of words in her speech. That is one quality that makes Sadhana Singh distinct from some stars known for their tantrums.
What, Where, Why, When, and How with Sadhana Singh:
Shruti Sharma: How did you get inclined towards acting?
Sadhana Singh: My sister is a trained Kathak dancer under Maestro, Birju Maharaj. She is the reason why I am here today. My parents were very progressive and they encouraged me to proceed with the role of 'Gunja' that was proposed to me by Rajshri productions.
Shruti Sharma: I know you are a fantastic singer, why did not you think of trying singing too?
Sadhana Singh: I never took formal training in acting. I don't know if I sing that professionally, but I never focused in this subject due to lack of proper guidance. I sing out of passion. In fact, my husband encouraged me to sing and get training in this.
Shruti Sharma: What is your mantra to overcome depression?
Sadhana Singh: Many people consider their profession as their life. To be honest Shruti, I never aspired to be an actress. As a true artist, you must have a heart of steel; trust me life is very precious. Surviving in the industry is not easy, thus you must simply enjoy what you do rather worrying what to do.
"I have immense respect for Kangana Ranaut"
– Sadhana Singh
Shruti Sharma: Do you remember the experience of your first audition?
Sadhana Singh: I had a screen test at Rajshri office; I was very excited to be in a village. Honestly, I did not realize when and how it all happened to me. The character was so much similar to how I was and I had put the real me for the audition of Gunja.
Shruti Sharma: Does casting play a fair role in the selection process?
Sadhana Singh: By god's grace, I never had a bad experience in this industry.
Shruti Sharma: Based on your experience, how is the industry to you – fake or friendly?
Sadhana Singh: Shruti, it is rare that you meet people that touch your heart. Initially, I used to get emotional and attached to many people; slowly I realized they are only a part of the project.
Shruti Sharma: TV or films, what do you prefer?
"I am a people's person."
– Sadhana Singh
Sadhana Singh: If the show is good, then TV but, television is bonded. I would prefer films as these give me satisfaction.
Shruti Sharma: Who are the actors you enjoyed working with the most?
Sadhana Singh: All have been great but if I need to name few; Satish Shah, Sachin, and Arun Govil have been amazing costars.
Shruti Sharma: As a music lover, what change would you like to see in the current Music industry?
Sadhana Singh: All songs sound the same to me these days. After a long time, Ajay and Atul's music is something I have connected with.
Shruti Sharma: Please share three tips for aspiring actors.
Sadhana Singh:
Be sincere (don't take it lightly).
Make good bonding on the set and respect every team member.
Be pure as an artist.
Straight from the Writer's Desk:
Sadhana Singh, thank you for this memorable conversation. I am truly inspired with the way you carried yourself with such dignity, grace, and respect in this challenging industry. Thank you for showing this level of patience with me and for being so grounded. You are a true star of this stardom. May the almighty keep you healthy and smiling always.
Love and Light