A Sweet & Melodic Conversation With the Singer, Radio Jockey & Lyricist – Samiir S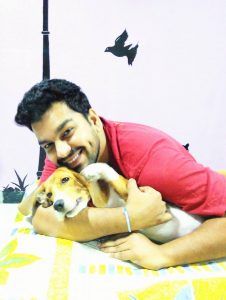 Name: Samiir S
Age: 28
Profession: Singer, Poet, Lyricist, Radio Jockey, & Painter
Samiir tried his luck in singing at the age of 21. He was unaware of the hidden singer in him until a group of college guys actually ragged him and dragged him for a singing session. He got the crowd stunned by his melodious voice. That was the moment when he was requested and invited to sing for all further college shows and programs at inter-collegiate level.
During his college days, Samiir has written more than 400 songs in English language. That's quite commendable! A period of youth where most of the youngsters are busy partying hard and dating girls, Samiir was seen with a pen and a book writing down music in his words.
By the time he was 23, he realized music was in his blood and in his soul. He took the art seriously and started doing a few projects by taking one step at a time.
 "Grabbing the opportunity of listening to your own voice on TV & Radio is an amazing feeling, says Samiir."
Projects & Accomplishments by Samiir: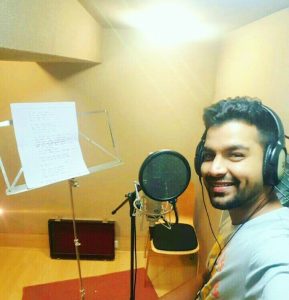 Samiir performed about 100 scratch recordings before he got his first solo for a Canadian project, 2011.
The Indo-Canadian film for which Samiir sang his first solo was named, Memories. Although, the movie didn't come out for some issues, it gave a big exposure to Samiir that helped him to break out from his shell. He recorded at A.M. Studios in Chennai. Working for an international project being a newbie is a major achievement in itself.
It takes time to build future; when it's ready, nothing can stop you from reaching your goals.
Samiir has recently turned into an RJ at 100.7 FM Gold; he was amongst the top performers in the list of around 4000 participants who competed with him.
Some major jingles by Samiir include, Honda Amaze, Mahindra XUV, Pepsi & many more…
A few famous Television songs performed by Samiir include – Dil Deke Dekho (Sab TV), Balika Vadhu (Colors), TV Ke Uss Paar (Zindagi). Samiir has sung a lead for a mythological animated movie, Sons of Ram.
Performed for various acoustic gigs, concerts & Radio Shows.
He runs his exhibitions for paintings yearly and has won a great recognition in his artwork too.
He was represented and appreciated by Vikram Bhatt where he sang the song (Hum Naa Rahein Hum) of Creature Movie at their music launch.
Upcoming Projects:
Samiir will be seen performing for a few upcoming serials, film background scores, & movie songs.
Greatest Award:
The emotions and pride on a mother's face to see her son singing and being praised by bountiful of people is the greatest award of life. Although, he is yet to achieve his milestones and things are happening fast around him, Samiir stays calm and doesn't show any cravings for fame or glamour in the industry.
Samiir is Still Waiting to accomplish his Major Milestones
Family Background:
Samiir has been through major hiccups in his personal life. As a single mom myself, I can relate to Samiir's story and struggles. He is also raised by a strong single parent.  His mother is his inspiration, love, life, and the only connection of his life.
His life has been like a roller coaster ride that included, experience, sacrifices, strength, perseverance, tears, sweat, and lots of learning.
There is one more member in his house without whom survival is difficult and that's his cute dog, Grammy! Those who know the value of Grammy awards would relate the level of love he showers on his dog and the reason why he dedicates that name to his best companion of life.
Hobbies and Interests: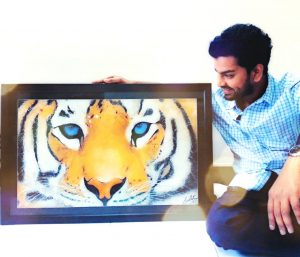 As we all know by now about Samiir is that he is a music freak but, he is also crazy for animals, especially dogs. Samiir is an amazing artist who loves to play with pencil and colors in his leisure time.
If you have to change one thing about the music industry, what would that be?
"Haha, you see the music will always be greatest & pure… Sadly, by the entrance of business, music has become more commercial than spiritual. I don't deny business is bad, but opportunities must be given to those who deserve to be there."
Message for Music Lovers:
"I am still a kid as a musician but, as far as I understand music I would say that we all live for music.  It would not be wise to confuse fame with talent. There are abundant of super talented artists with no fame; however, those who have limited knowledge about music are leading.
To the audience, I urge them to enjoy music, respect an artist & Dreammm Big…"
Straight from the Writer's Heart:
Firstly, I am thankful to you Samiir as I found a true soul to talk to. It almost brought tears into my eyes after relating your struggles and success together. I must say you have lived life like a true warrior!
On the humorous side, he is a complete foodie! He just can't resist Chinese. Samiir loves to travel, riding his bike, and adopt pets. Some of his idol singers and favorite performers are; Usher, Emili Sande, Ellie Goulding, Michael Jackson, Mohd. Rafi, and Lataji.
I wish you all the best in your future endeavors Samiir.