Saar Kashyap comes from a small town of Assam, a state that even today faces language barrier, lack of economic development, shortage of job exposure, and lesser academic opportunities. Despite all these factors, Saar has made a stand-out doing all that he could to face life with more confidence and a greater vision. He completed his B-Tech with distinction and got a decent job in an IT firm. However, the fire inside to make life bigger and better did not let him sleep and look where he is today; I am so glad that Saar is here with me from the world of Bollywood! 
Let's have a quick read about his recent interview by me…
Name: Saar Kashyap
Profession: Actor, Model, and Theatre Artist
Date of Birth: 4th December
Zodiac Sign: Sagittarius
Height: 6'1″
Location: Mumbai, Maharashtra, India
Languages: Hindi, English, Bengali, Assamese
Interests: Acting, Modelling, Cooking, Traveling, Socializing, Aerial Yoga, Meditation, Cross-Fit, and Gym.
Follow Saar Kashyap on his Social Links:
Popular Works
Padmaavat (Sanjay Leela Bhansali Productions)
Hadh Web Series(Vikram Bhatt)
Badi Door See Aye Hain (SAB TV)
Shakti Peeth Ke Bhairav (Big Magic)
Nagarjuna-Ek Yoddha (Life Ok)
Baal Krishna (Big Magic)
Crime Patrol (Sony TV)
Laut Aao Trisha (Life Ok)
Laal Ishq( &tv )
Commercial/Advertisement:
Commercial Teaser for Savdhaan India (2017)
Champion Chakki Atta (United Kingdom Brand) (2018)
Acting Background & Training:
Theatre for 2 years under Nadira Babbar of Ekjute Theatre Group – Mumbai, Maharashtra
Upcoming Shows:
Tezpur General Store produced by BBC Studios 
Laal Rekha produced by Kamaleshwar Arts
About Saar Kashyap:
Saar Kashyap is a versatile actor, model, theatre artist, and fitness freak!
From stage and small screen to the big screen; this actor has tried every possible platform to prove that he exists and he has come a long way today! His journey took a further positive turn in Bollywood after he got an opportunity to act in a character opposite to Deepika Padukone in Sanjay Leela Bhansali's, Padmaavat (2018). Saar is well-versed with various languages such as Hindi, English, Assamese, Bengali, and more…  He is a fitness freak and does everything that helps him to remain fit and healthy.
The personality that he carries has the ability to blend well in any kind of role. He is versatile, hard-working, adaptable, sincere, and most importantly, passionate for his acting career. Saar Kashyap is a B-Tech graduate and holds a distinction in his academics. It is impressive to know about someone especially, who comes from the state of Assam, where majority of the people could barely speak in fluent Hindi.  From being a fluent Hindi speaker to an avid reader of English fiction, Saar has worked hard to be the person he is today, which he continues to do so…
Early life:
Saar Kashyap is the son of beautiful and talented singer, Sanghamitra Bharali. His grandparents were freedom fighters. Saar has taken guidance under Mrs. Nadira Babbar for his acting career in theatre.
'Singing is selfless but, acting is for self; only those connected to god can sing but, acting is something you do with a purpose and that purpose is 'audience'.'
– Saar Kashyap
Saar has done a commendable job in several ramp assignments as a model. He has also made his presence as a jury in various social causes and events.
What, When, How, and Where with Saar Kashyap:
Shruti Sharma: You have a strong educational background, what drove you towards acting over other fields of your interest?
Saar Kashyap: My family has an artistic background. My grandfather was both, a well-known writer and a freedom fighter. My Grandmother was also a writer and she had an inclination towards music. My mother is a singer herself. Thus, art and entertainment is in my blood. I took an interest in acting leaving my well-settled job in an IT firm, as I was always passionate in acting. Camera is my life!
Shruti Sharma: How comfortable are you in switching between positive and negative characters?
Saar Kashyap: It depends how the role is written. Shahrukh Khan experimented performing negative roles in his initial acting days and made his mark as one of the most romantic heroes of the era. Taking risk excites me and the audience accepts you if you give 100% to it.
Shruti Sharma: What is your mantra to overcome depression?
Saar Kashyap: Be busy all the time. Never sit idle. Never let your mind think something else other than work. Also, being fit helps! Any fitness plan begins with a fit mind. A fit mind is the ultimate weapon you can have to overcome any kind of setbacks or depression.
Shruti Sharma: Top 3 must-haves (qualities) to be a good actor?
Saar Kashyap:
Focus & Concentration: to perform the best
Imagination: to show the best
Courage: to deliver the best
Shruti Sharma: 'Struggle is necessary', how much do you agree to this?
Saar Kashyap: Nothing great comes easy in Life, Shruti. If you get something with your blood and sweat, you value it the most! When you value something, you will do everything to your fullest potential. A Great Artist is not born great; he makes himself great by doing everything with utmost discipline, dedication, focus and perseverance. Thus, struggle teaches you all these in the phase.
Shruti Sharma: If not acting, what would Saar Kashyap be doing?
Saar Kashyap: I maybe in the corporate field as I was already offered a job in the IT sector as a Software Engineer in my 3rd year of the B-Tech course. However, I have always followed my heart and here I am…
Shruti Sharma: How important are looks to you as an actor?
Saar Kashyap: Looks are important for Television and Commercials. However, films and web are more performance-oriented. Looks help you get noticed but, it's the performance where the heart of the audience reside. Look at some of the best examples that you see today who have made an amazing presence through their performances eradicating all the subjectivity. To share with you, two of my favorites are, Nawazuddin Siddiqui and Nana Patekar. They are brilliant performers and very much loved by the audience.
Shruti Sharma: One thing that you look forward to desperately change in your life?
Saar Kashyap: Bringing more Luck, Getting more work and Stardom! It is true, life is unpredictable and you never know when your time comes. So, I continue to work harder and smarter every day. I am grooming myself to prepare for the best.
Shruti Sharma: Any specific quote that you follow to stay focused?
Saar Kashyap: Keep moving forward, keep winning & ruling! Think Nothing Else. You will realize how everything will fall in place when you begin doing things.
Shruti Sharma: Who are your role models in the entertainment industry, please specify?
Saar Kashyap: Shahrukh Khan (self-made man)! He is a complete entertainer and has balanced his family and career beautifully. Shahrukh did everything the right way. I look up to him as a successful actor.
Shruti Sharma: Your role models in the fitness industry?
Saar Kashyap: Jeff Cavaliere (AthleanX). He is an American Fitness Trainer. He is well informed and truly inspiring. I strongly follow his fitness regimen.
Straight from the Writer's Desk: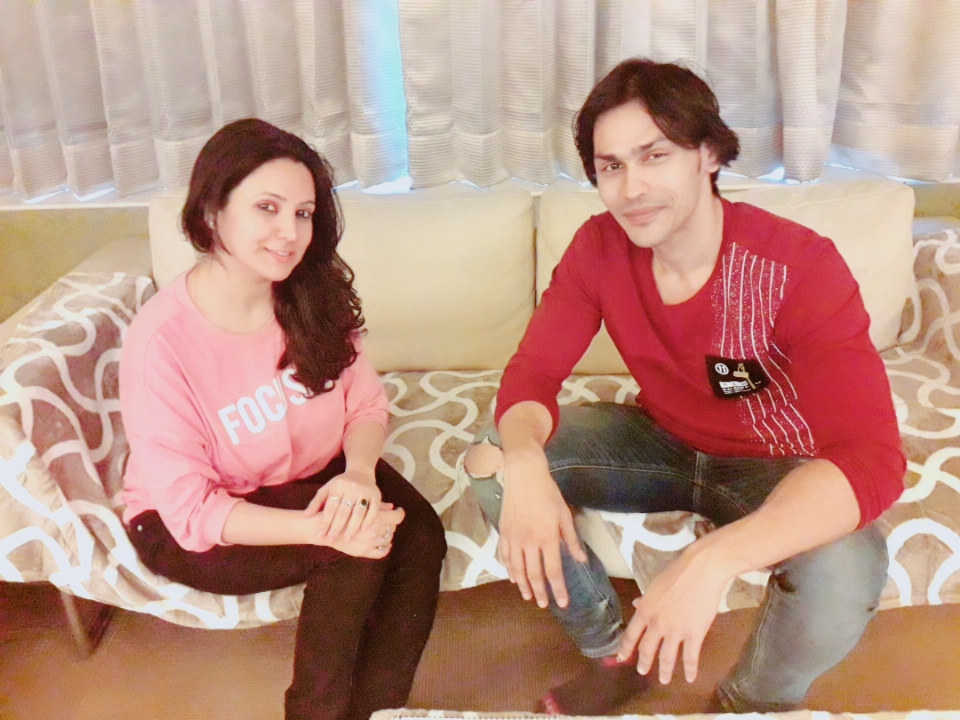 Firstly, let me appreciate you for all the thoughts you have shared with me, Saar Kashyap. I find the spark in you and I am sure this spark will shine to an extent that the audience will enjoy it greatly through your every performance. I pass my best wishes to you with this assurance that you will do well and continue to enjoy the stardom for a long time.
Message for the Readers by Saar Kashyap:
"It's very important to give clarity to your purpose in life. It will drive you to your passion with commitment and discipline. Working hard and having a positive attitude will break every barrier in your way and you will achieve your Goal."
Just like there are millions of stars in the sky; we have many stars in the entertainment industry too. However, why do we get inclined towards the selected ones? It is because only few have a unique shine and I feel glad to have come across a similar star – Saar Kashyap. He is making his shine visible in the industry and creating an orbit of his own. Let us all wish him luck, success, and health!
– Shruti Sharma
Love and Light to all.
Saar Kashyap || New Work Links Glimpses || from Saar Kashyap on Vimeo.