'Dance like no one is watching you'; I realized the true definition of this quote after meeting this charming and smiling Bollywood choreographer. You are bound to fall in love with the persona of this amazing 'reality show' judge. In my recent meet with her, she has gifted to me abundance of maturity, sensibility, and knowledge about professionalism. Today, you will learn many things from this experienced personality in her Questions and Answers round with me at the end of this interview article.
An interview and article dedicated to the gorgeous 'MAA' of choreography – Geeta Kapur.
Full Name: Geeta Kapur (that's the correct way of spelling her name)
Profession: Bollywood choreographer and reality show judge
Date of Birth: 5th July
Zodiac Sign: Cancer
Place of residence: Mumbai, Maharashtra
Prominent works as a choreographer:
Opening ceremony of Pepsi IPL (2013)
Fiza
Asoka
Saathiya
Heyy Baby
Aladin
Tees Maar Khan
Tere Naal Love Ho Gaya and more…
Prominent works as a reality show judge:
Dance India Dance
DID Li'l Masters
Dance Ke Superstars
Dance Ke Superkids
DID Dance Ka Tashan
Super Dancer and more…
Prominent works as a choreographer in assisting Farah Khan:
Kuch Kuch Hota Hai
Dil Toh Pagal Hai
Om Shanti Om
Main Hoon Na
Kal Ho Na Ho
Mohabbatein and many more…
About Geeta Kapur: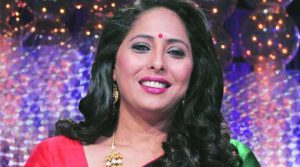 Before you begin reading this interview article on Geeta Kapur, I would like to address two most important facts about Geeta;
The correct way of spelling her name is 'GEETA KAPUR'.
Geeta received the honor with the title of 'MAA' at a young age for her exceptional choreography skills and nondiscriminatory judgment in reality shows.
Her career began when she was just 15. A young dancer fell sick and Geeta was called to replace her. This young dancer was none other than Farah Khan. That was the beginning of this gorgeous pair in choreography. Geeta continued to assist Farah in many prominent and successful Bollywood movies thereafter.
Geeta brings along great experience in western and classical dance. Her hand gestures, body postures, and expressions speak it all. Although, she belonged to a middle-class family her dreams of living a settled life were never compromised. She has experienced and tackled her own set of challenges like her father's illness, mother's care, her own health issues, and more… If you have to define courage and positivity at the tip of a smile, you must meet Geeta Kapur once. She has an aura that brings new signs of hopes and energy in your life.
My meet with Geeta Kapur: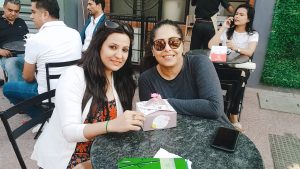 It is not hard for me to describe that Geeta has been one of the top names on my priority list for an interview. Ever since I saw her as a judge in reality shows, I showed alacrity (eagerness) to see her in person and borrow some fresh air of confidence from her vibrant personality. Geeta is a genuine soul and no one can ever steal that from her.
We met at Lokhandwala (Andheri) for coffee and there she was comfortably dressed in a western outfit. It is true that dance is a dancer's life, however; very beautifully Geeta explains that there is a life beyond dance too..
A life;
– that every artist deserves,
– that every artist strives to live beyond the tag of public figure,
– that no one has a right to challenge or judge!
I am glad that Geeta was just the way she is in her real life with me. Her humble nature, poised personality, and straightforward attitude have not been spoiled to an inch due to the prominence and stardom she enjoys. The moment I saw her, it was a 'thanksgiving moment' for me to the almighty for making this dream come true after almost eight years.
"There's another side of every celebrity; don't be shocked."
–    Geeta Kapur
Geeta Kapur is not a name; it is an answer to your spirit, liveliness, courage, and determination. Despite many hurdles in life, she has continued to show the same spirit of fighting against all odds. Regardless of whether she suffered from herniated disks, weight gain, health disorders, and other personal losses in life; she continued to choreograph, judge and entertain us with the same spirit. Perhaps, that's how you define professionalism in the professional world.
What, where, why, when and how with Geeta Kapur:
Shruti Sharma: How was life before entering the industry for Geeta Kapur?
Geeta Kapur: Life was simple and somewhat complicated on the personal side. We lived in a small house; I always dreamt of giving a bigger house to my family and add more comfort to my mom's life. Finally, things are coming true and I am enjoying the fruitful results of my hard work.
"Two hands are not enough to run a family; you need to do a lot of things at the same time."
–    Geeta Kapur
Shruti Sharma: How did the introduction of dance happen in your life?
Geeta Kapur: Shruti, I am blessed that my mom always kept me busy. She may have sensed that I could perform better in the field of dance and thus, she made me learn it regularly. I used to attend dance classes four times a week.
Shruti Sharma: If not choreography, what would Geeta choose to excel in life?
Geeta Kapur: I wanted to be an air hostess, I wanted to fly. I also did a course in the same. Unfortunately, I dropped my eyesight when I was in 9th grade. I appeared for Cathay four times and passed all the tests except the vision test. However, destiny had planned something else for me. To be honest Shruti, even today, I love that experience of flying.
Shruti Sharma: How did the entry in movies happen as a choreographer?
Geeta Kapur: I began receiving offers to choreograph dance shows, fashion shows, and dance sequences at college level and parties. I remember, a dancer was appreciated by my dad that made me little jealous. I was so inclined to receive the same appreciation from my father. Call it an opportunity, that the little girl fell ill and I was asked to replace her. That dancer was none other than Farah Khan. My mom traveled with me everywhere for all competitions. In the later stages, I assisted Farah in choreography. Till date, I deeply respect Farah for the woman she is. I have learned lot of things from her. I have also worked with Javed Jaffrey and kept shuffling between Farah and Javed from time to time. My first movie with Farah was 'Duplicate' in 1996.
Shruti Sharma: Whom would you like to give the credit to for this success?
Geeta Kapur: Circumstances! It's the circumstances that have made me the woman I am today.
"I am glad and happy I wasn't born with a silver spoon."
–    Geeta Kapur
Shruti Sharma: How has the experience with people of this industry been; fake or friendly?
Geeta Kapur: Shruti, it really depends on how you look at it. The industry has always been kind to me. In this industry, I have met fake and friendly both; I never allow fake to affect me.
Shruti Sharma: What is more challenging, choreographing in movies or judging at reality shows?
Geeta Kapur: Meeting with expectations in both is challenging, Shruti. A lot of things can go wrong and a lot can go right according to your level of dedication and determination.
Shruti Sharma: What has been your favorite performance so far?
Geeta Kapur: I very well remember Shruti a performance that shook my heart. It was the last episode of 'Superdancer' Episode – 2 choreographed by Vivek on the track, Tera Chehra. It was beyond my imagination. I wish I could have also been a part of this choreography.
I have also enjoyed choreography for Ranveer Singh for Stardust Awards. He is unbelievable and speechless. He is a perfect definition of 'CINEMA' who carries perfection in his skills.
Shruti Sharma: One change that you would like to bring in our industry or in general?
Geeta Kapur: Perception! Perception of how people see the celebrities. Every celebrity has a personal space and life; respect it.
Shruti Sharma: Geeta, any message to the fans?
Geeta Kapur: Thank you for all the good things. My special thanks to all the GKNOMERS . I would also like to thank those who put me down; they helped me gather myself. My message to my fans is love us but, don't get obsessed with us.
Straight from the writer's desk:
Geeta Kapur, to me you are an inspiration and you have always been a role model. Although we have met now, artists like you have always passed positive vibes through the screen to millions; I am one of them. Thank you for taking out time for this interesting interaction. I look forward to much more like these and deeply pray from all my heart for your success and peace.
*Special thanks to Irfan for making this meet possible for us.*
I wish you love, peace, and success from the Almighty.