7 Modeling Tips by the Dashing and Handsome – Vineet Soni
Vineet is one of the heartthrobs in modeling world. The journey of modeling hasn't been that easy as it seems for this personable man. An interview with Vineet disclosed many pros and cons about modeling that a beginner must know! There are several facts about modeling agencies that I bet you didn't know being a model.
About Vineet Soni:
Vineet is a professional model and actor. At the age of 28, he has gained immense popularity in the industry. He is 6 feet 2 inches tall, fair, and sharp featured guy who would drive any girl crazy by his classy looks.
He was always fascinated with the idea of modeling and performing ramp shows. Vineet made his entrance in the world of modeling when he was just 18. He is originally from Amritsar and has done his schooling from Delhi. Vineet has a bachelor's degree in Journalism and Mass Communication.
'Modeling can be either done with passion or not at all.'
– Shruti Sharma
After his schooling, he shifted to Canada to pursue his further studies in Business Analysis. He started to work in a Bank to cover his living in Canada. Vineet has received various awards for his brilliant performance in his career.
His father is a Helicopter engineer and always wanted Vineet to become a leading pilot. On the other side, Vineet's dreams were to enter the fashion world. He is blessed to have supportive parents who are always there for him in all his goals.
The passion for modeling and acting kept increasing. He shifted to Mumbai and found a rental apartment.
Acting shows by Vineet:
Ishq Kills (Star Plus) – Directed by Vikram Bhatt – Role of a Commando
Naadaniyan – (SAB TV) – Acting Teacher
Siya Ke Ram – (Star Plus) – Neel
Jai Jai Bajrang Bali – (Sahara TV) – Lord Vishnu
Akbar and Birbal – (Big Magic) Lord Shiva
'People who are wishful make the impossible happen!'
– Shruti Sharma
Modeling shows by Vineet Soni:
Toronto International Fashion Festival by Vikram Phadnis
Lifestyle Brand
Ramp Show by Choreographer Shakir Sheikh
Kora Brand – Ahmedabad
Various major shows in Canada and other cities of India
'If not modeling, Vineet would have become a successful Pilot!'
7 Modeling Tips by the Dashing and Handsome – Vineet Soni: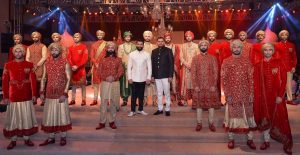 Thin body:
We know that modeling agencies demand a thin skin by females. It is the same with male models too. You need to be lean if you want to approach leading modeling agencies. There is a major demand for that picture perfect image in the fashion world.
Presence of mind:
A ramp show may happen anytime, anywhere. It includes a public event or an open mall space. It is very important that you have a good presence of mind when you are changing your costume. There are possibilities that the roof of the temporary changing space is open and people from the upper floor may click your pictures. This can be embarrassing and humiliating. Remember, you are paid to show your costume and not nudity.
Availability:
Most of the ramp shows are never pre planned. You can be called anytime of the day. It is important that you make yourself available to be a successful model. There are oodles of images stored in the directory of modeling agencies and they will find it difficult to locate you unless you make yourself available in many shows.
Payless shoots in some modeling assignments:
If you think every modeling assignment gets you great earnings, you are still a beginner to understand it. Many beginner models do not get paid for all shoots. The agencies trade their shoots with apparels and pictures. Sometimes, you don't even get that. Hold onto that patience and make your name in the market before you demand anything.
Uncomfortable shoots:
Vineet agrees that modeling is a great part of glamor world, that's not all! Not all shoots will give you a comfortable location. A model may have to work on a bad weather or in wrong type of clothes too. There are different positions that a model need to prepare for and some of these are really uncomfortable to get the shots.
Self-Security in Modeling:
Modeling isn't an easy option to choose in your career. Some brand endorsements may lead you to serious troubles. Be sure to guard yourself in whatever future circumstances. There are times when people may want to capture you in their camera when you don't wish to be photographed. Many models face situations with hidden camera in their trial or changing rooms. Be very alert; check everything before you begin your shoot.
Waiting Period:
Many people presume that modeling is a quick task. Everything involves a long waiting period. From hairdo, makeup, costumes, photographer, to receiving your pictures, there is a long waiting period. Those who have the patience to learn and earn in modeling can succeed. You need to take along another hobby like reading a book or exploring the world on phone, during the wait.
Straight from the writer's desk:
Wow! And I thought modeling has so much of clamor about glamour. The facts and tips shared by Vineet Soni will certainly help many beginners to try their luck of facing the paparazzi.
Vineet is an amazing guy who breaks the rule that a model must not be expressive. He is one of the most humorous guys I have ever met. His sense of humor and spontaneity of thoughts will impress you to core. An interaction with Vineet Soni was more of laughter and less of stress. I just felt it should never come to an end.
He will be seen more often on TV shows and programs. I convey my best wishes for his future projects with a hope to see him smile always. Vineet Soni, after meeting you I can say without a doubt that you will continue to have success in all areas of life.
Hope you liked this informative and interactive article.
Watch this section for more exclusive interviews and entertainment coming your way!