A special meet with a trained pilot, writer, actor, and phenomenal personality –  Mukul Dev
A fine actor, a trained and skilled pilot, a brilliant academic student, and an impressive writer; today, I am excited and eager to write about this proficient personality – Mukul Dev. Mukul has shown his excellence in everything that he touched in his career graph. This special interview is to let you know about his amazing journey in life and films.
Name: Mukul Dev
Profession: Actor and Writer
Place of Residence: Mumbai
Date of Birth: 17th September
Zodiac Sign: Virgo
Sibling: Rahul Dev
Prominent Works in Movies:
Jai Ho
R… Rajkumar
Son of Sardaar
Yamla Pagla Deewana
De Taali
Ittefaq
Dastak
Prominent Works in Television:
Gharwali Uparwali
Fear Factor India (Host)
Bhabhi
SSSshhh..Phir Koi Hai
Kumkum – Ek Pyaara Sa Bandhan
Arslaan
21 Sarfarosh – Saragarhi 1897
Works as a Writer:
Omerta: A crime, drama film starring Rajkummar Rao (written by Mukul Dev and directed by Hansal Mehta.)
*The movie received special recognition at several international film festivals like the Toronto International Film Festival, New York Indian Film Festival, Hong Kong International Film Festival, Florence Film Festivals, and more…
About Mukul Dev:
Mukul has served as an actor for a long time yet, he looks passionate about his work and absolutely fresh with his looks. Although, he feels that his career path hasn't faced any major pebbles on the way, the journey can't be treated as a piece of cake. He has faced his individual hardships, ups, and downs in his acting career that we shall read further in this interview article.
I still remember how beautiful the pair of Mukul Dev and Sushmita Sen looked on screen in Bollywood movie, 'Dastak'. It is no doubt, that they were raw and innocent but, that is what won the hearts of millions.
Mukul has served the air services as a pilot for more than 7 years of his life. He passed every exam in his academics including the pilot programs with flying colors.
His father wanted to see both the siblings in police service being a cop; however, Mukul was destined to fly with the wings of success. Modeling and acting were never planned for him; it just happened. Mukul and Rahul, both the brothers have strong sibling bond that is quite evident in the way they share each other's projects.
My Meet with Mukul Dev:
Mukul and I interacted about the interview just once and I am glad he got ready to do it for us without much delay. His home seems like a den of peace. You won't find any white lights but, Arabic styled lighting throughout. The moment you enter, there is a fresh scent of incense sticks and a sigh of relief due to the lovely designing of the house.
'Look for work in the industry; not lover.'
– Mukul Dev
He showed us the room where he literally meditates with books around. The entire room looks like a well-kept library along with a meditation corner that makes you feel like settling forever. The walls of his drawing room are covered with his best pictures, framed beautifully. I was blown away by his amazing looks in some of the pictures. I must admit that I am surprised to realize why limited people mentioned about Mukul Dev's Greek looks in long hair and beard. He truly looks like one of them!
His bedroom has a separate well-organized wall with pictures of his daughter and nephew (Rahul Dev's son). Overall, the house is neatly arranged with appealing interiors.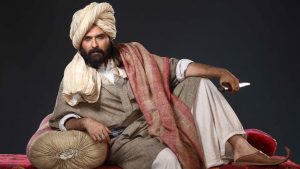 'Some actors do not strive for stardom; their passion in their performances lets stardom follow them.'
– Shruti Sharma
Mukul Dev's simple yet lavish lifestyle stirred me with motivation. He shared few inspirational thoughts that you will read further in the Q & A section. He was kind enough to offer us special ginger tea with snacks on the rainy evening. My meet with Mukul was as simple and informative as it should be between a professional actor and a writer. He was humble, casual yet, professional with us, and that is what I love the most about him.
What, Where, Why, When, and How with Mukul Dev:
Shruti Sharma: What brought you into acting?
Mukul Dev: To be honest Shruti, I never thought I would be an actor. I started flying when I was 19. I continued to fly till I was 26. Due to conspiracies and internal corruptions in the aviation industry during 90s, I started experiencing the downside curve in career graph. I remember, it was Rohit Bal's fashion shoot for my brother Rahul Dev. Due to some reasons, he couldn't go for the shoot and sent me as a proxy. That was the beginning of my modeling career. I entered television before Rahul; 'Ek Se Badhkar Ek' was my 1st TV show.
Shruti Sharma: Were your parents happy about the fact that you left aviation industry to switch to acting?
Mukul Dev: I didn't leave aviation industry, Shruti; call it a time of transformation in my career. In fact, I enjoyed giving exams. My mother was happy with me shifting to acting career. I consider myself fortunate that I got a chance to work with prominent production companies like Mahesh Bhatt's Vishesh Films and Amitabh Bachchan's ABC. Jayaji treated few of us in her company like her own kids.
After my first film Dastak with Sushmita Sen, I signed more than 40 films in my career (excluding the television shows). That brought a lot of experience in me in acting.
Mukul Dev was the first presenter and host of Fear Factor India – Season 1.
Shruti Sharma: What has been challenging – Television or Films?
Mukul Dev: Television of course! Films have a time limit and give you some breather; television expects you to work for longer hours. The strenuous working hours sometimes affect your health and personal life.
Shruti Sharma: Have you ever felt like returning to aviation industry as a pilot?
Mukul Dev: Shruti, I did return actually. There was a time period in which my films were not working as expected and I decided to return to aviation. People gave me cornered looks with thoughts like being an actor, what is he doing here in the examination center? However, I was active enough in the class and I loved giving exams. I jell along well with people and that worked there too. I passed my exams with amazing results; however I was called back in the industry as the destiny expected me to stick to acting (which I love of course!).
Shruti Sharma: How did you perform in your first audition? Was it challenging and fearful, just like it is for anyone who does it for the first time?
Mukul Dev: (Takes a pause and some moments to go back to flashback; then he smiles and answers), I remember the first scene from the TV show, 'Ek Se Badhkar Ek'. It took 17 takes for me to get it done right. The scene was to come at a certain frame of a glass window and stand there in the right position. I took some time to understand what exactly was expected out of me for that scene.
'We all go through a struggling phase; mediation and books really help to overcome that.'
– Mukul Dev
Shruti Sharma: Have you ever faced some sort of Nepotism?
Mukul Dev: No, I will be honest. As I mentioned earlier, I was glad to be in good hands right from the beginning from Bhatt Saab to Amitabhji and Jayaji. Everyone in the industry has been kind to me.
Shruti Sharma: What fascinated you to write?
Mukul Dev: I still do! I love to write. Books can be your best buddies. I remember, it was in 2006 when I began to write and then I wrote a film named, 'Omerta', which gained great recognition in various International Film Festivals.
Shruti Sharma: How was the experience of working for the South Film Industry?
Mukul Dev: (Smiles) This reminds me of one of the most interesting experiences. I remember I was given this project by my brother Rahul for a South Indian Film named, 'Krishna'. It was the role of an antagonist. When I met the director, the first thing I was asked was; "You don't have a body?" My answer was, "No sir, no body; I have acting and face" (Mukul mentions with little humor).
When I was asked to give the narration of my plots; I narrated it and continued to explain it for some time out of passion. I got the role and guess what, the character in the movie was altered according to me! On asking the director what made him change his mind; he answered; ''it is your passion and the hunger in you for work that changed my mindset that no one else could do the role better than you."
'I have no body, but I have acting skills and a face to perform any role passionately.'
– Mukul Dev
Shruti Sharma: Mukul, please recommend some trusted and reputed casting firms for the aspiring artists to showcase their talent without the fear of exploitation.
Mukul Dev: Bling Entertainment by Atul Kasbekar, Mukesh Chhabra, KWAN. There are some names that I would like to recommend such as, Vivek Bhaswani, K.S. Sanjay, John, and Kunal Shah.
Shruti Sharma: How do you handle sarcasm or comments of people?
Mukul Dev: It affects me! What people say behind my back doesn't bother me much. However, when people pass disturbing comments, I know how to give it back.
Shruti Sharma: Would you like to give 3 essential tips to aspiring actors?
Mukul Dev:
Do not spend your energy and emotions, remember – it is work!
Do theatre; it really polishes you. Join theatres like Andrew's, Prithvi, and NSD
Don't ever compare your earnings with others' luxuries and avoid spending foolishly. Give your career time of 6 to 8 years at least before you call yourself settled.
Shruti Sharma: Any message to the readers?
Mukul Dev: Whatever role I get, I will always do my best. Keep watching me and liking me like you do now. Stay blessed all.
Straight from the Writer's Desk:
I can't thank Mukul enough for this memorable and informative session. We didn't realize how much time we spent talking and conversing about his journey. Every word he spoke was straight from the heart without any preparation. His professional vehement acting skills always draw the audience closer to him. In real life too, he is exactly the same as he shows himself on the screen and that is his USP.
Mukul, after meeting you now, we are more eager to see you often on screen. I and Bhairavi Sharma pass our best wishes to you for your current and future projects.
Hope you all enjoyed reading this crisp and clear interview with Mukul Dev as much as I enjoyed writing it.
My Love and Light to all.
https://youtu.be/pWpetoNbIh0