A Charismatic Meet with John Abraham – The Paladin of Bollywood
Name: John Abraham
Profession: Bollywood Actor, Producer, Former Model, Football Coach for North East United
Passion: Three F's – Football, Fitness, and Fans
Collections: Yamaha R1, Yamaha VMAX, Suzuki Hayabusa, Lamborghini Gallardo, Audi Q3, Audi Q7, and Maruti Gypsy.
About John Abraham:
'John Abraham' – An actor of films in reel life and an extractor of emotions in real life. John is a world renowned Bollywood actor, a successful producer, a vivid football player, fitness junkie, and much more…
My interview with John Abraham: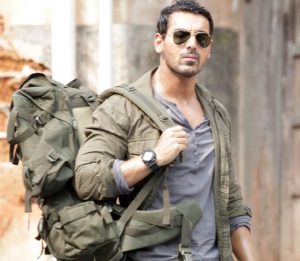 There are innumerable reputed websites, magazines, and forums who have described John Abraham with best reverence; however my interview with John includes insights about the film industry in the most constructive manner. Recently, I and author Bhairavi Sharma visited his new office at Khar.  We fixed a meet at 11 am and as known for his punctuality, he was there with his beautiful niece, Brother Alan Abraham, and his cute dog, Bailey. (Do not miss to read the intellectual session of question and answer round with John Abraham.)
'It is because of John's grounded nature that he has a very humble staff.'
One thing I observed keenly and loved about his office was that everyone from the watchman to his PR, Minnakshi was extremely polite and courteous. They give a warm welcome to all and make you feel like home. He called us in his official cabin and we settled comfortably to begin with the interview. He wore a black-tee with the label of his football team 'North East United' and looked handsome as always.
'John is a keen observer.'
Why was the interaction with John Abraham Special?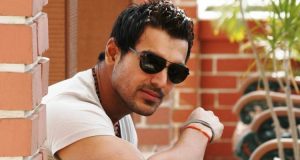 When you talk to him, he will look straight into your eyes and pay attention to every word spoken by you. That's what makes his presence very special to people as they feel accepted. We were fortunate enough to see a glimpse of his mother (Firoza Irani), whom I really admire.
The venerable lady is not only gorgeous from outside, but has a heart of gold. Firozaji is associated with many charitable trusts and old age homes for the senior citizens of the country. I accord my homage to her. The credit for these amazing values and human qualities in John Abraham goes to his parents.
John Abraham's Acting Journey:
The reason why I am always virtually connected with John ever since his first video album 'Chupke Chupke' by Pankaj Udhas, is due to the Santoor and background scores played by my dad, Pandit Surendra Sharma. I found him very presentable, innocent, and cute in the video. I strongly believe the universal laws of attraction made it happen for me that I finally interviewed the actor who was so close to my heart.
John did his first Jeans' campaign by Late Viveka Babaji. When John was auditioned for his first movie (Kabhi Khushi Kabhi Gham) for the role of Kareena Kapoor's boyfriend, he didn't find the comfort zone to act and was appalled! He quit the audition and decided to continue modeling. On the contrary, destiny had many things stored for him in abundance. His first movie 'JISM' took John to a new level in acting career. From then, there was no looking back for this stunningly handsome man…
Awards and Achievements: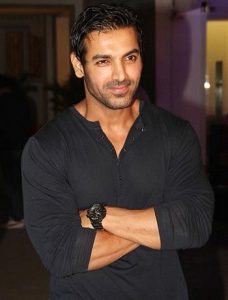 You will find oodles of information about his acclaimed stardom. John doesn't show any cravings for rewards to his contribution to Indian cinema and does not believe in being judgmental about artists' performances. Despite showing disinterest in attending the award ceremonies, he has been honored with various prestigious trophies. A few mentioned hereunder are loved by his fans across the world who believe that he truly deserved these.
Rajiv Gandhi Award, 2006
Title of Asia's Sexiest Man, 2008
Titled as India's Sexiest Bachelor, 2011
Honored as India's Most Stylish Man and Icon, 2012
John also holds various National Film, Asian, Filmfare, IIFA, and Zee Cine awards.
Questions and Answers with John Abraham: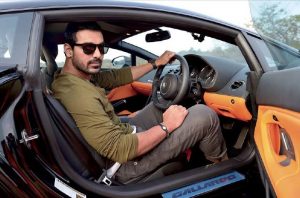 Shruti Sharma: How religious are you?
John Abraham: Not at all religious… Shruti, I believe, "The biggest sinners in the world are the most fanatically and religiously inclined people!" I strongly believe in moral and human values with this acceptance that there is some universal power in this world that connects us together.
Shruti Sharma:  Do you think negative roles have an impact on an actor's image?
John Abraham: No, it's the love for acting and the result of your fans that make a big difference on an artist's image. Negative roles are always good and movies like 'Dhoom' and 'Zinda' did well for me.
Shruti Sharma: How good is the entertainment industry according to you?
John Abraham: That's something that you will learn with experience. The industry gave me good people to deal with. I agree, for women it's a bit tricky but, it's same everywhere and you must be alert enough to handle the situations.
Shruti Sharma: Why did you switch to Production?
John Abraham: The main objective of switching to production is to eliminate the practice of Nepotism! I want the newbies to come from outside the industry as there is abundance of talent that needs the light of appreciation.
Shruti Sharma: Acting or production, what would you prefer?
John Abraham: Acting anytime! I love to act and would continue to do so. As I said, in my previous answer, my production company has a different purpose of highlighting the talent outside the industry.
Shruti Sharma: What kind of roles do you prefer?
John Abraham: Although, I am known as an action hero, I love to do slapstick comedy. The movies that I really enjoyed working were Garam Masala, Dostana, Welcome Back, and Housefull 2.
Shruti Sharma: Amongst the movies done by you, what was your most favorite role or character played?
John Abraham: 'No Smoking' is a very special movie to me as it has a strong social message. To be honest, I am very glad that the audience did not enjoy the movie as the purpose of not liking was solved in an objective manner. The second movie that I loved is 'Madras Café'. I want to produce more movies like these that make some realistic sense to the audience.
Shruti Sharma: Talking about terms like casting couch, how fair and safe is casting direction to the newbies?
John Abraham: Casting team plays a vital role and you must do your homework well before approaching anyone in the industry. There are few names like Shruti Mahajan, Dharma, Excel, and Yashraj who have immense credibility in the market in terms of casting the right candidates.
Shruti Sharma: If a movie fails at the box office, who is at loss – the director or the artist?
John Abraham: It is the director who suffers the loss first and then the artist.
Shruti Sharma: What mantra do you follow to come out of depression or when you feel low in life?
John Abraham: Self-conviction brings you back. It helps to make you realize your self-worth and accept that it's not worth to sulk during a bad phase.
Shruti Sharma: Do you think it is necessary to carry stardom on sleeves?
John Abraham: Not at all! You must never carry stardom on your sleeves; beware that nothing lasts forever. Respect what you have and thank the universe for its blessings upon you.
Shruti Sharma: What message would you like to give to the young and aspiring actors?
John Abraham: My message to the aspiring artists is that do not spread the carpet for all opportunities that come your way; be open to selective and reputed people/firms. The most important thing is to understand what you want to do and then approach people.
Straight from the writer's desk:
Life is full of twists and turns; I never guessed it will turn this way for me that the green tea shared with John Abraham at his office will be remembered for life. I admit he is as handsome as any international star and his aura will leave you breathless. In an industry like Bollywood, where there is plethora of good looks and talent, John takes the lead as he not only displays a well-built physique, but a heart of gold too.
His flawless personality made me realize how divinely you can be a contender to yourself and make your aura better with every day passed. I really wish to thank his parents for raising such a human being who gave us beautiful movies to adore. John, you make a wonderful actor, producer, and most importantly, a fabulous human being. I respect you for what you are and my best wishes are with you for your future projects.
Hope you enjoyed reading this special interview as much as I enjoyed writing for you.
Stay tuned for more exclusive interviews and entertainment specials coming your way.
Love and Light!